Contact Form with Artificial Intelligence (AI) Spam Filter
GET YOUR FREE ACCOUNT NOW!
Getting spammed from your "Contact Us" form?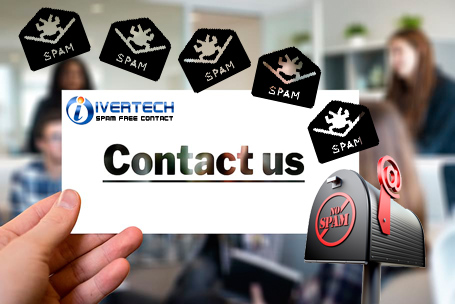 You are not alone.

Spammers do not need to know your email address to send you spam messages nowadays. They use bots or hire humans to send you spam messages using your "Contact Us" form.

Your inbox gets so inundated by these spam messages that valid messages from your actual customers are often missed. Sifting through hundreds of messages in your spam folder is a daunting task that no one enjoys doing.

Don't you wish there's a tool to stop these spam messages from invading your inbox?

It's time to introduce Artificial Intelligence (AI) to your Contact Us form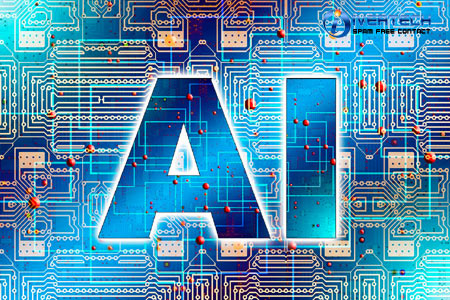 We have designed just the tool for you.

Using Artificial Intelligence (AI), we are able to fend off spam messages affectively. After years of collecting spam messages from various sources, we have trained our Artificial Intelligence spam filtering system to recognize spam messages at a high accuracy rate of 99.9%.

The spammers can send all the spam messages they want from your Contact Us form. With the help of AI, none of the messages will end up in your inbox. These spam messages will be filtered out and be "quarantined" at our server. Only genuine messages from your customers will get through our system.

Is it difficult to set up?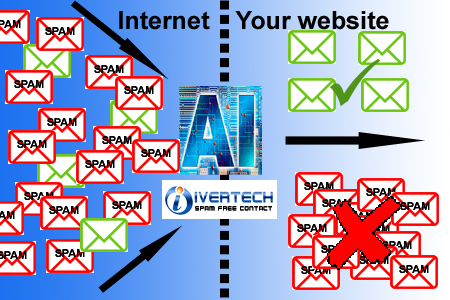 It's actually a lot easier than you think. We have done all the heavy lifting for you so that it doesn't take much effort to incorporate our Artificial Intelligence spam filter into your website.

Here are 4 simple steps you need to take:
Create an account with us and start your free trial (without a credit card).
Create a new form and copy the installation code (just one line of html code).
Paste the installation code onto your Contact Us page.
Sit back, relax, and wait for genuine messages from your real customers to land in your inbox.
How does it actually work?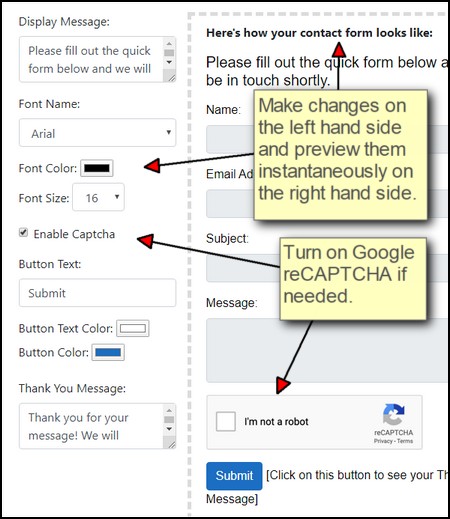 User submits a message using the Contact Us form (which is generated by the html code that you copied and pasted to your site).
Our Artificial Intelligence spam filter picks up the message and decides whether it's a spam or not.
If it's a spam, it's "quarantined" on our server.
You can review these spam messages on our server if you choose to.
If it's not a spam, an email notification is sent to your (together with the content of the message).
You can reply directly to your customer if it's not a spam.
If a message happens to be misclassified (which is highly unlikely), you can help our Artificial Intelligence system learn by clicking on a button that will reclassify the message.
It takes a few days for the "machine learning" process to kick in.
Once our Artificial Intelligence system learns your preferences, future messages will be classified correctly.
Since our Artificial Intelligence spam filter is correct 99.9% of the time, we don't expect you to have to click on the re-classification button much.
Any other nice features?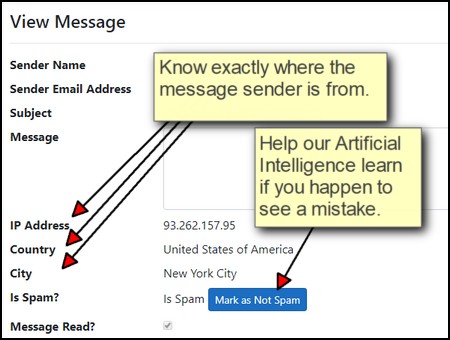 Besides having Artificial Intelligence built into our system, below are some nifty features that you will find useful:

Highly customizable Contact Us form.
You can customize the font style, font color, font size, and button color of the form.
You can also rename the fields or add additional custom fields as needed.
Preview your customization instantaneously on the same screen.
Use Google reCAPTCHA to fend off spam bots (an optional feature that you can turn off if not needed).
The IP address, city, and country of the message sender are captured and displayed.
Ability to re-classify a message if it was classified incorrectly.
How much does it cost?

It's actually quite affordable. We provide various plans according to the number of forms you need. Please review our plans and pricing to find a plan that fits you. You can get started immediately with a free account. You get one form to start with. You can then choose to upgrade to a paid plan with multiple forms if needed.
Is it compatible with my platform?

Our form works with any websites that support iframe. Below are just a few sample website platforms that we support: